In the third of this series, joint manager Anthony Johnson speaks about the six seasons he had, alongside his great mate Bernard Morley, in charge at Ramsbottom United. This is Jonno uncut, in his own words looking at the 2011/12 season in the North West Counties League … the title winning campaign.
Having finished second behind winners New Mills, Johnson and Morley embarked on their third season in charge of The Riverside with a real sense of optimism.
Here's Jonno with his thoughts and memories of this most memorable season.
I think we played Bury in a pre-season game and we beat them. They brought a really strong side as well and that just gave us a bit of confidence heading into the season. That summer, we signed Grant Spencer, who we had had our eye on for a while and got him shortly after that ridiculous 7-5 game with Rossendale at the end of the previous season. He gave us a different dynamic in the team but we were largely unchanged from the previous year.
One really big signing that we made in that summer was Glenn Moses coming in from Atherton LR. He had resigned from them and we asked him to come and help us out. John Hunter, who had been coach with us, had a really high flying job and was talking about leaving us. Glenn was an unbelievable signing for us.
We did get some lads in – just some local players. Lee Bruce came from local football, Josh Burke was another local lad. Louis Edwards came with Glenn from LR but we were looking more for continuity and we kept largely the same team that had played the season before, with Spenno coming in.
As per normal, we lost our first game of the season, away at St Helens Town 3-2 but we had a decent start to the season with four league wins and a comfortable win at Barnoldswick in the FA Cup and then we played Salford City on the Friday night – a decent crowd came on as Rob Moss and the Supporters Club had arranged for the FA Cup to come.
They were playing in the league above and we beat them that night. Jack Redshaw, who came and played for us when we were at Salford, scored in the first minute but we equalised and then Kieron Pickup won it in injury time. They had a really strong side that season and we battered them.
We were actually offered the Salford job shortly after that game as pressure was building on Rhodri Giggs. We turned them down, told them there was not a chance of us going there as we were already doing something with Rammy.
Mark Ayres came and joined us after the game but the problem was, we just couldn't get him in. Dawson and Warrender were playing in his position so Ayresy played at left-back. He had a brilliant long throw and gave us something different and, with him, we just became a bigger and stronger side. It was a bit of a joke that we were seen as quite a small team, but with Daws, Flannery, Ayres and Warrender, we got a bit of steel about us.
We went on a good run after that although we lost to Nantwich Town in the FA Cup when Drewy scored an absolute worldy and we were brilliant that night but they stole in with two goals in the last couple of minutes and we then lost to Silsden and Alsager but we knew we would have a good season.
We had a good squad that had been together for 12 months, 18 months, two years. As I mentioned in the previous season, the players also gave us a chance to step back from playing, especially Bern who looked to concentrate more on the managerial side of things.
In the next 16 league games, we only lost two – one at Padiham and the other the New Years game at Squires Gate when Lee Gaskell didn't show up until the second half!
At the start of the year, we signed Jordan Hulme, who had played against us in that game with Padiham. We continued to win through January but then had a three and a half weeks off because of the weather.
We lost to Runcorn Town, who were our big rivals for promotion that season and then drew with Bootle and lost to AFC Liverpool – one point from a possible nine in February as we slipped to second in the table.
After the AFC Liverpool game, Bernard and I sat in their clubhouse – they were playing at Prescot Cables ground – until about 11pm with Eric Whalley and Harry. Anyone who knows me knows what I am like after a defeat but dropping to second in the table, I was pretty down.
We were talking for so long that the bar staff kicked us out as they wanted to go home!
We knew that we had to win every single game we had left to play and hope that Runcorn slipped up somewhere. Everything changed on Easter Monday.
With eight wins and a draw after the AFC Liverpool game, we travelled to Bacup Borough on the Bank Holiday while Runcorn Town were playing Linnets in the local derby. A late goal from Grant Spencer put us ahead and we were getting fed news that Runcorn were 2-1 to Linnets.
I remember us going mad. The crowd at Bacup was 167 and about 140 of those were Rammy fans. It was at that moment that I thought, this is ours now.
That Bacup game was really cagy but the win and Runcorn's defeat lifted the weight off us. A few of us, coaches and a few supporters including Little Katie and Andy, Rob and a few others went up to Barnoldswick to watch Runcorn Town and they won with a last minute goal.
When we battered Ashton Athletic 4-1 – quite a few of Runcorn Town turned up there!
But it was that game at Bacup that was huge. It gave us a real confidence and it released the shackles a bit as we then smashed St Helens 5-0 before that Ashton 4-1 win.
There was one defeat in that end of season run but, for us, it actually didn't matter. It came in the quarter-final of the League Cup at home to Norton United – they have folded now. We would have liked to have won the League Cup but we felt that it was a game and a competition that we just didn't want to be in while we concentrated on winning the league. We didn't need any extra cup games.
Don't get me wrong, we didn't go out to lose that game but we weren't too disappointed when we didn't.
So we went into the final game of the season with Winsford with every confidence and we were 4-1 up at half time. We were incredible and the atmosphere in the ground was amazing. I remember Ian Street, the Winsford manager, pulled me aside at half time and just said, don't make it double figures, don't make it embarrassing for us. I went into the dressing room and told the lads to be ruthless, really go for it.
We were relentless. We just had too much fire power for a lot of sides. We were always going to concede by the way we set up. Lads like Pilky, Sharpy, Gaz, they just weren't defensive minded. But when you think of the team we had put together – Warrender, Dawson, Shenton, Smalley, Stopforth – all went on to play at Conference North level. They weren't young lads either then – Stopforth was 27 or so, Daws 27-28, Smalley was mid 20s. Just look at where they ended up.
But we didn't sign players from a higher level either. Jordan Hulme came from Padiham, Sharpy was a free agent, Pilky was from Runcorn Linnets, Phil Dean was signed from school, Flanners wasn't playing either, Shents was an U18 with FC United. It was a bunch of misfits, as Harry called them, a bunch of mongrels, we were rejects!
We just didn't have any respect for anyone. Over the next few seasons, what we did find out was that the lack of respect we had for teams at our level would come back and bite us on the backside.
When we won the league and finally dragged the club out of the North West Counties, where they had been since 1995, we felt that the ceiling for the club was anywhere! If this team could stay together, we would have got to the National League. That was always going to be difficult with the finances but the team that finished that season contained 12 or 13 players that were still with us when we left. There was no mass overhaul.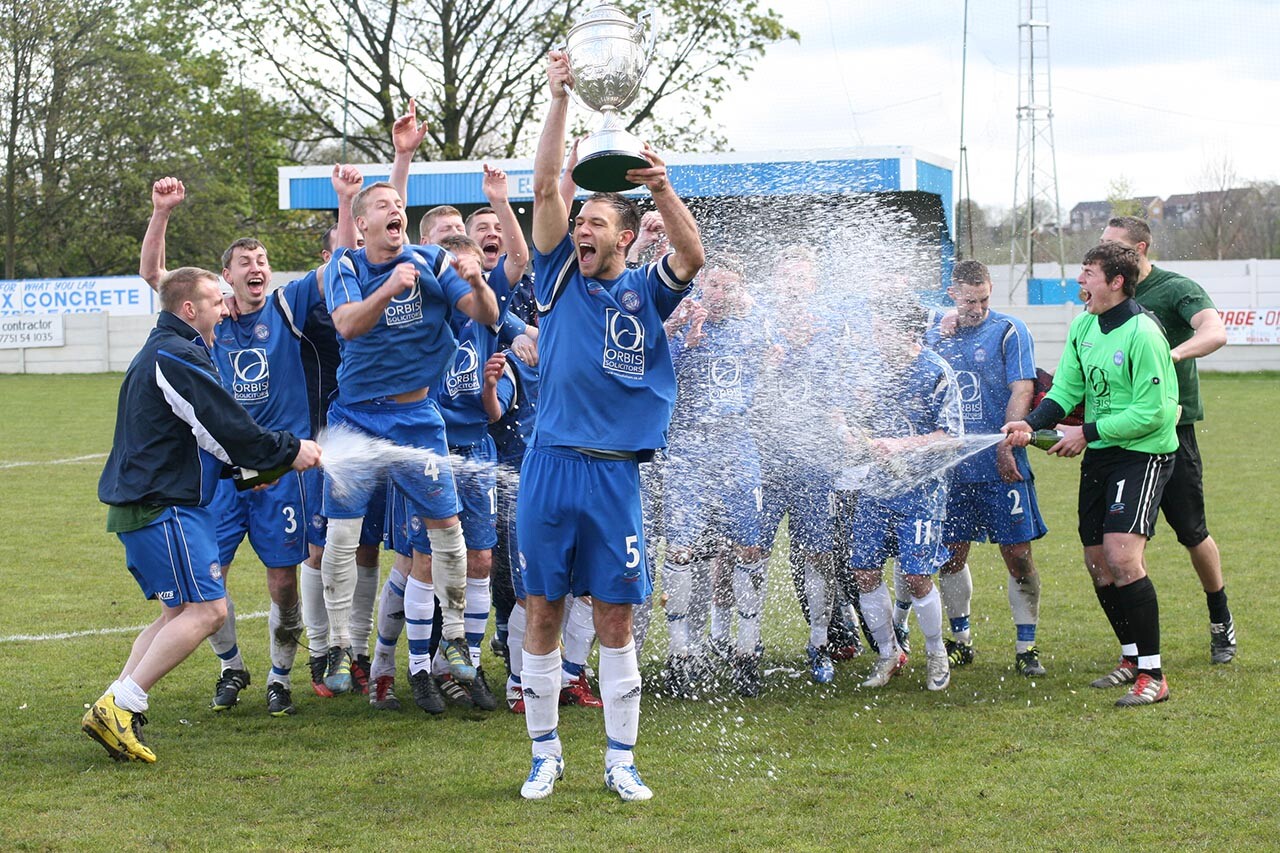 And all of this was done with players not on any contracts and all local lads. We didn't have the money to sign bigger players, we stuck with the players we had, the players that had brought us success.
The crowds were up, people wanted to watch us and we had finally won the North West Counties League. That is still one of my true highlights of my career.
Three years after people had questioned Harry marbles in giving us the manager positions, we had won the league. What was next for us? Just doing that was never going to be enough. The Northern Premier League was a whole different thing and we needed to be more tactically astute.