As the dust settles on the 2021/22 season, we have a look back over some of the stats from our league campaign.
HOME RECORD:
Our home win% of 52.6 was our highest in a full season since the NPL Division 1 play-off promotion year of 2013/14! The Rams did win 11 of 13 at home in 2019/20 and won 15 out of 18 games at home across the two cancelled seasons.
AWAY RECORD:
Our current away win% this season is just 10.5 (2 wins from 19) – our second lowest of all time in the semi-professional ranks since 1995/96. The lowest was 2 wins from 23 in the NPL Premier relegation season of 2015/16.
13 away goals is our lowest tally ever in a full season (we scored 7 in 3 games in 2020/21, which doesn't count!). Only once previously have we not scored 20+ goals away from home – that was in 2007/08 when we scored 16.
On average this season, the Rams scored 0.7 goals per away game – our lowest ever in the semi-pros (we were 0.8 in 2007/08 and 0.9 in the relegation season).
THIS SEASON'S OVERALL RECORD:
32.4% wins this season – our lowest since, yep, you guessed it – 2015/16 when we won just 10.9% (5 in 46 games).
It is the second lowest since 2008/09 – 31% with 13 wins from 42 games in our first year in NWCFL Premier. That season was also our lowest average home attendance too – just 115. No wonder really!
HIGHEST AVERAGE HOME ATTENDANCE:
Note – full attendance records are not known from 1995/96 to 2003/04
2014/15 season – 350.0
2021/22 season – 345.1
2019/20 season – 307.7 (cancelled)
2020/21 season – 277.6 (cancelled)
2013/14 season – 262.4
In the last 10 years, our home attendance has improved by nearly 75% (up from 197.4 in 2011/12 to 345.1 in 2021/22). However, it should be remembered that the 2014/15 season average of 350 did include the stand out 2104 attendance on Easter Saturday when FC United of Manchester packed in to the Riverside so the 2021/22 season could be deemed as the highest 'regular' season.
The average away attendance at our games this season was an astounding 402.4 – the highest we have ever had.
LEADING GOAL SCORER
Our leading goal scorer this season in the league was Domaine Rouse who slotted 10. James Murphy and John Murphy were joint second with 6 each. However, Domaine's 10 goals was the lowest number to top the goalscoring chart since Alex Meaney's 6 in the relegation season of 2015/16 and Russ Brierley and Steve Orrell's joint tally of 10 in 1997/98.
GOALS
The Rams scored 47 goals this season in the league and conceded 62.
The 10-minute break down read as follows.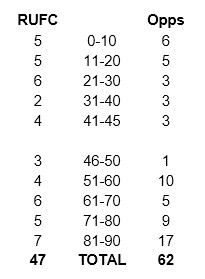 The Rams conceded 17 goals in the last 10 minutes and 26 in the final 20 of league games this season – something that the manager was very aware of and was certainly troubled by.