OTS – 28th OCTOBER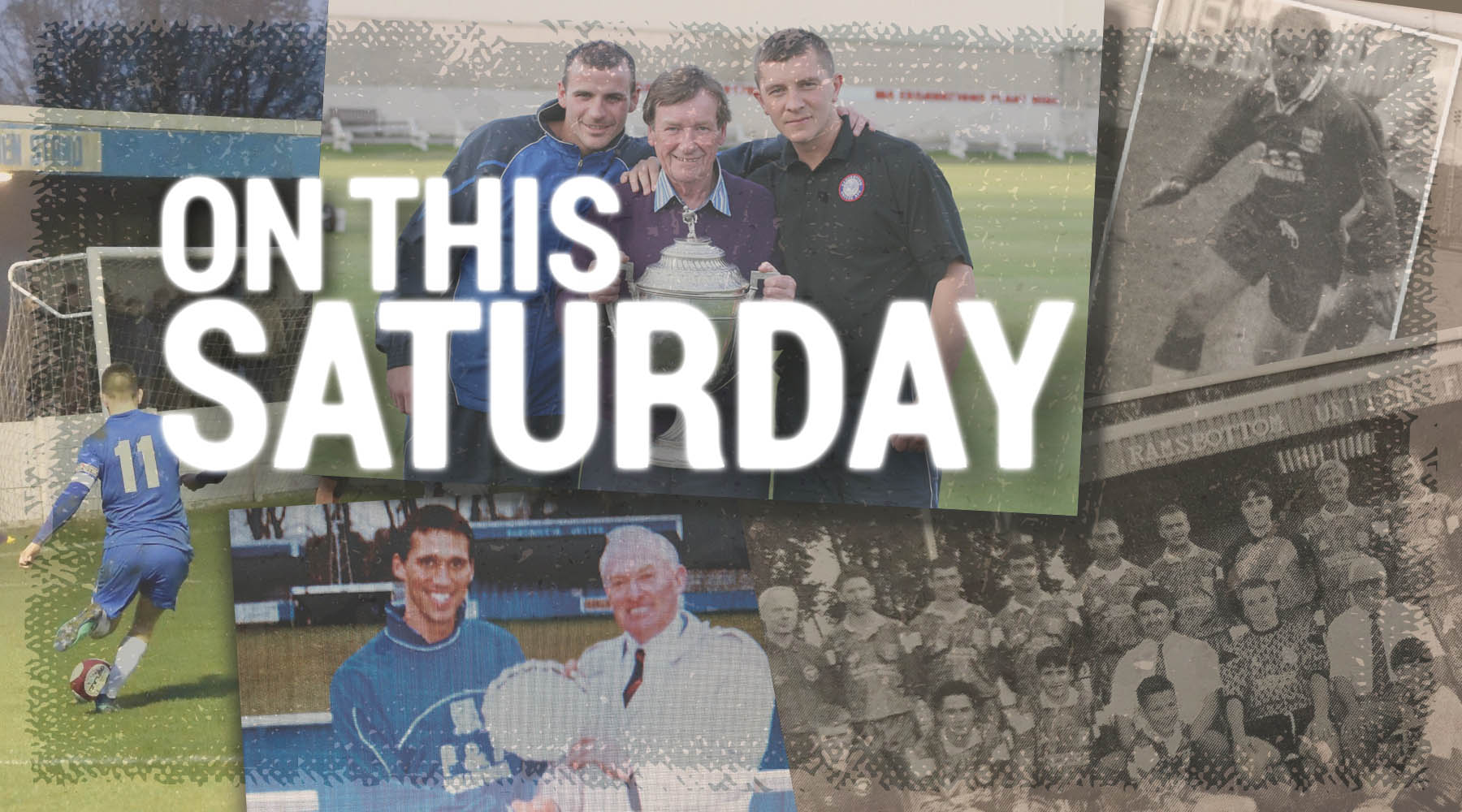 Another Saturday so another chance to take a look back at the games played on this respective day in our non-league history – and it's Saturday 28 October.
2017 – SHAW LANE 2 RAMSBOTTOM UNITED 2
FA Trophy Qualification Round 1
The Rams took a break from their spluttering league campaign and took on a side they have never met before, would meet one more time and will never meet again … Shaw Lane! And as Tony Cunningham's report showed, you can probably see why!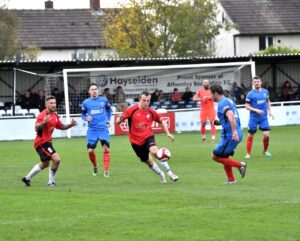 Ramsbottom United ventured over to Barnsley more in hope than expectation as they came up against the nomadic Shaw Lane club that has risen through the pyramid at a sharp rate of knots on the back of a supposedly wealthy backer who has filled his team with experienced non-league players.
Promotion to Evo-Stik Premier last season meant that the Rams were facing a side near the top of a league above, and met them on the back of a dreadful away record and a humiliating 4-0 home defeat in their last match.
Hardly a background to fill the Rams faithful with too much to look forward to, and an early goal for the hosts seemed to confirm such an outlook.
However, the much-changed Ramsbottom line-up did more than correct their recent deficiencies, and had it not been for another controversial refereeing performance, may well have returned home with their first away victory of the season.
The game was played in difficult conditions with a swirling wind racing across the pitch. Virtually every high ball finished up some way from it's intended destination, usually out of play and over the fences.
The first contentious decision made by the man in black arrived after just 15 minutes. Jerome Wright was adjudged to have fouled when he protested that the award should have gone the other way. The referee, as was to be the case throughout the afternoon, became the centre of attraction, and the subsequent free-kick taken by Orlando-Young, just outside the box, caught the wind and sailed inside Danny Taberner's left hand post.
Whilst the hosts pushed up regularly with the wind slightly in their favour, the visitors refused to lie down, and after 37 minutes Tom Brooks was unlucky to see his low drive clawed away at the last minute by Stewart in the home goal. However, the frustration only lasted for a few seconds, for, from the resultant corner, debutant Josh Heaton rose highest to firmly nod home the equaliser.
Indeed, the Rams could have taken the lead as the half-time whistle was about to sound, but Jamie Rother's drive was just too high.
The visitors did not have to wait long to push their noses in front.
Barely a minute after the break, Greg Daniels fired home from an acute angle, and suddenly the hope was turning to expectation.
The home side should have equalised minutes later when former Altrincham goal machine Damien Reeves inexplicably side-footed wide from six yards out when a goal looked certain, but back came the Rams, with Daniels agonisingly inches wide at the other end.
As the game wore on, the home side pushed forward, but the resolute Rams defence worked hard to repel any danger, with Tom Brooks and Brad Roscoe both clearing off the line to preserve the lead.
A third goal would have seen the game safe, and Brooks tried his luck from distance only to see Stewart smother his effort.
With the clock ticking down, three minutes into time added on saw another example of poor refereeing, as Mr Jones decided that a scramble in the box had seen a visiting player deliberately handle a ball that was blasted at him, and to the dismay of all in red, pointed to the spot.
Up strode Harris to blast home an equaliser that was much contested by an angry and frustrated Ramsbottom team.
There was still time for the referee to annoy the home side when he decided that Gordon, who had already been booked, had deliberately handled as he fell unintentionally on the ball. Instead of just awarding a free-kick, he reached for another needless yellow card followed by the inevitable red.
Before kick-off, the Rams would have been delighted with a draw, but for all their effort to have been so cruelly thwarted late on by the incompetence of the match official, saw them troop off the field in a disappointed and disconsolate mood.
RAMSBOTTOM UNITED: Taberner, Stead, Roscoe, Stott, Heaton, Brooks (Moran 85mins), Dean (Spencer 90mins), Rother, Wright, Daniels, K Brownhill. Subs not used: Thompson, Meaney, Williams.
2006 – FLIXTON 2 RAMSBOTTOM UNITED 2
North West Counties League Division 1
(report from Lancashire Telegraph)
Goalkeeping errors were the order of the day in this match, with both sides profiting from mistakes.
On 12 minutes, a cross by Anthony Johnson has handled by Jamie Bates in the area and the referee wasted no time in awarding a penalty kick for the Rams.
Sean Pearson took the responsibility but a poorly hit shot saw the ball go a foot wide of the post.
However, within a minute of this miss, he made amends when he latched onto a long hopeful pass from Chris Steele and, after rounding the keeper, he hammered the ball into the back of the net.
There was controversy in the 42nd minute when Liam McManus was floored by a late challenge. As he rose to his feet, Mark Ayres blatently used both hands to push him back to the floor and was lucky to get away with just a booking.
Flixton drew level thanks to a Campbell free kick.
On 70 minutes the Rams got back in front after some poor goalkeeping by Roberts. A freekick was taken by Johnson and, with the keeper coming off his line, he somehow dropped the ball and Lee Cryer was on hand to volley home.
With 10 minutes to go Flixton drew level again as Wilkinson launched a 30 yard screamer directly over the outstreched arm of Campbell.

2000 – RAMSBOTTOM UNITED v KIDSGROVE ATHLETIC
MATCH POSTPONED
There weas no game for the Rams on this Saturday in 2000 but there was some good and bad news for the club announced.
Skipper Warren Brierley had been ruled out for the rest of the season after damaging his knee in the game against Clitheroe back on August 29. He collided with the advertising boards at the back of the Railway End goal and required extensive treatement on the pitch before being stretchered off to hospital.
Initial examination revealed no serious damage and a few weeks later, he returned to training only to suffer a recurrence in a five-a-side session.
He had been for a scan which showed he had damaged his cruciate ligament, just about the most serious injury a footballer can suffer.
The captain was to undergo surgery, which would hospitalise him for a couple of weeks and then it was a matter of recuperation, ruling him out for the rest of the season.
Another injury victim, left-sided defender Mike Langhorn, was standing by for a return to action after surgery on a broken nose.
The Rams' Christmas party should go with a quite a swing. For not only have they got Frankie Vaughan in their ranks, they have now gone out and signed up Barry White as well!
White is a 22-year-old midfielder who was playing for Colne in the NWCFL Division 2. Rammy boss Ken Bridge is also on the trail of Mossley right back Phil Porter and hopes to add him to the Riverside ranks.
1995 – HASLINGDEN 2 RAMSBOTTOM UNITED 0
North West Counties League Division Two
(report from Rossendale Free Press)
Midfielder Andy Cowkin put Haslingden back on the winning trial in the derby clash against Ramsbottom United – by scoring the first goal in the 2-0 victory.
Haslingden had been creating chances in their previous matches but have failed to put them away especially in the league encounter against Stantondale.
After a frantic opening, during which both Haslingden and Rammy had chances to take the lead in the first 15 minutes, the Ewood Bridge side gradually took control.
Cowkin had an effort tipped over the bar, player-manager Steve Parry fired wide while Colin Yeomans missed a golden opportunity to give Haslingden the half-time lead.
Cowkin put Haslingden in front after 54 minutes when he latched on to a perfect through ball from Parry.
Parry sealed the win in the 62nd minute when he converted a low cross from Yeomans.
Rammy boss Ken Bridge complained that his team should have taken their chances. "The lads have still to have more belief in themselves then we will stuff someone," he said. "I felt Darryl Hardman had a great game in defence cancelling out Steve Parry."