OTS – 23rd SEPTEMBER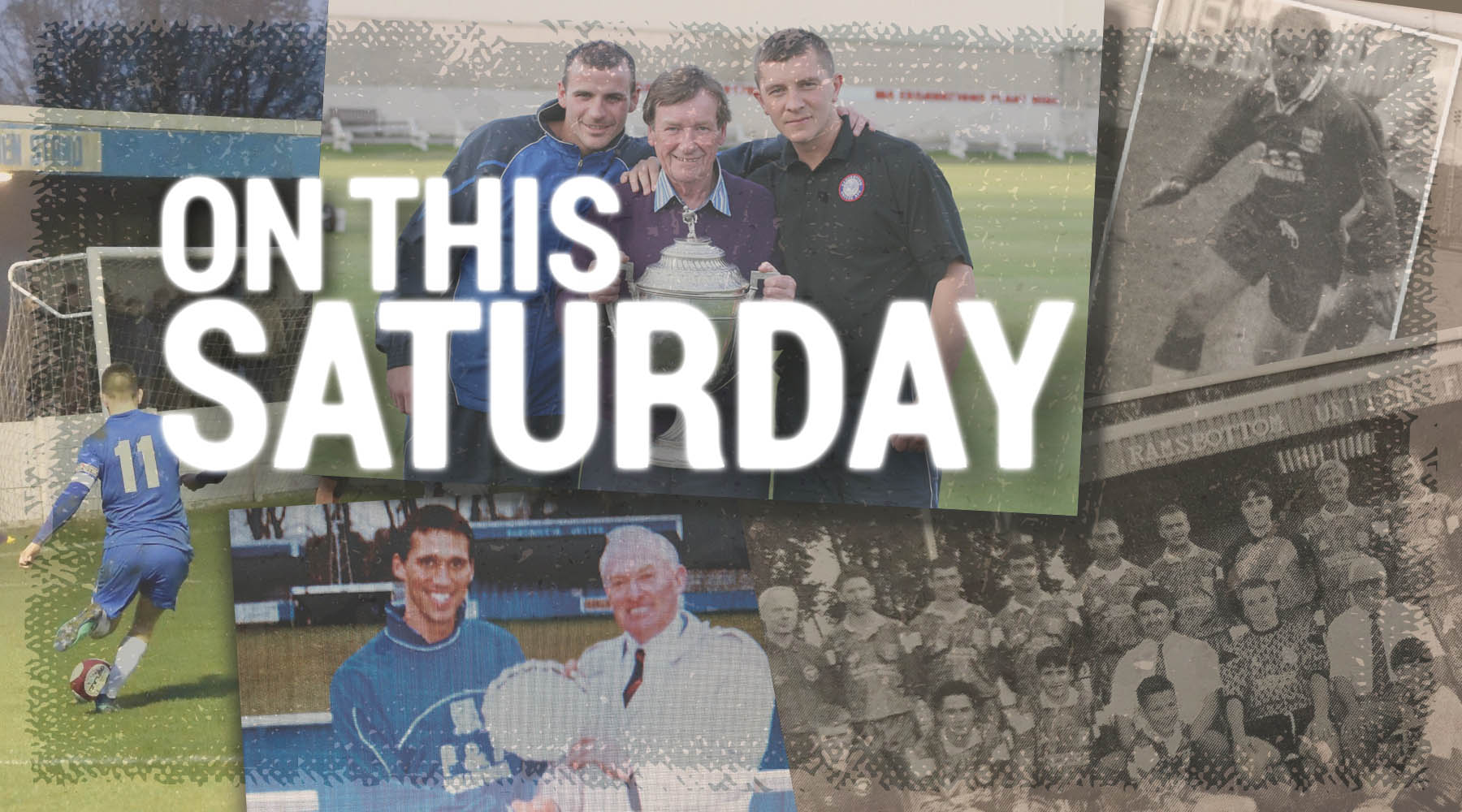 We will take another little delve into our semi-professional history and look back at what happened "On This Saturday" over the years – today being Saturday 23 September. And we have four wins to report!
2017 – RAMSBOTTOM UNITED 1 PRESCOT CABLES 0
Northern Premier Divison 1 North
The Rams unbeaten start had come firmly crashing down with defeat at Mossley and then a midweek loss to Kendal Town so the Rams were hoping to get back to winning ways when Prescot Cables came to town …
Here is Jon Haslam's match report from the game.
Ramsbottom United were back at the HWRS after a couple of away reverses looking to extend their 100% home league record against a high flying Prescot that had won 6 of their last 7 outings. With the home side missing manager Mark Fell and striker Greg Daniels who had both been dismissed at Mossley 7 days earlier, this gave Tolani Omotola his first league start for the Rams up front whilst Sam Heathcote also came into the starting eleven for Marcus Poscha.
The opening stages began evenly with both sides attempting to gain the upper hand without either calling the opposing keeper into action until just after the quarter hour mark when Ben Richardson's free kick was tipped over the bar by Cables stopper Burgess.
Visiting striker Owolabi was looking lively as he teased Brad Roscoe into a mistimed tackle resulting in a yellow card for the ever present defender. The match struggled to raise the pulse of a crowd of 260 as both sides found it difficult to keep possession for long enough to create much attacking threat.
Perhaps the best goal scoring chance arrived when good play from the home side saw Jamie Rother tee up Tom Brooks for a shot from the edge of the penalty area which flew wide of the visitors' goal just after the half an hour mark.
The Rams took the lead on 36 minutes when a long ball from the defence split the Prescot defence and was seized upon by Omotola whose strength and pace got him free of the visitors' rearguard before confidently shooting past Burgess for his second goal of the campaign.
Prescot responded with a couple of long range efforts which didn't seriously test Martin Fearon in the home goal although with half time approaching neat play around the Rams penalty area from the visitors resulted in a shot which fizzed wide of the target much to the relief of the home crowd.
The half ended with the Rams holding a narrow lead and it was hoped that the late goal would be the catalyst for a more entertaining contest.
Jerome Wright was again looking a threat for the home side as a well struck free kick 5 minutes into the second half brought a fine save from the diving Cables custodian Burgess. The match was delicately poised as both sides found it difficult to create many clear goal scoring opportunities as the respective midfield players battled it out for supremacy.
Ramsbottom nearly scored a second goal on 69 minutes when a Wright corner found the head of Roscoe but his header bounced wide of the target .Prescot made the first change of the game midway through the second half with the Rams responding with Max Hazeldine replacing goal scorer Omotola as both benches sought to influence proceedings using their substitutes.
The remaining 15 minutes of the contest followed a similar pattern with what had gone before with numerous stoppages making good football problematic. A flurry of yellow cards punctuated the final stages of the match as Prescot battled in vain to test Fearon as the match meandered to a conclusion.
The final whistle blew without the home goal being put under too much pressure and the Rams had their fifth win in 5 home league matches and kept their second clean sheet of the season to register a very important victory and rise to 6th in the league table after the weekends fixtures.
It may be argued that this wasn't perhaps the most entertaining of matches but the win is after all the most important thing and any team will need these types of results if they are to be successful. The Rams fought and scrapped for this positive result and again showed their team spirit and willingness to fight for each other as they claimed a valuable 3 points.
Ramsbottom United: Fearon, Heathcote, Brownhill, Stott, Thompson, Roscoe, Brooks, Rother, Richardson, Omotola (Hazeldine 68mins), Wright. Subs not used: Meaney, Moran, Poscha, Williams
2006 – STONE DOMINOES 1 RAMSBOTTOM UNITED 3
North West Counties League Division 1
Having lost four games in a row since beating Bacup Borough at the start of the month and having suffered a shock 4-3 defeat away at Maine Road in midweek, conceding three goals in the last 20 minutes including an injury time winner… Ramsbottom finally got a win under their belts thanks to a fine team effort (reported the Lancashire Telegraph).
Two goals from Abid Uddin and one from Liam McManus did the damage.
After Tuesday night's shock defeat to Maine Road they produced the goods at long last to take maximum points from Stone Dominoes – also recording their first ever victory over the men from Staffordshire.
But the second half saw Rams' Paul O'Shaughnessy sent off for an off-the-ball incident.
2000 – RAMSBOTTOM UNITED 4 THACKLEY 3 (2-2 after 90 minutes)
FA Vase 2nd Qualifying Round
(report from Lancashire Telegraph)
A GRIPPING, end-to-end cup-tie that had the fans on the edge of their seats, but also saw manager Ken Bridge almost tearing his hair out.
While the Rams scored four times to earn a home tie with Northern League Division One outfit Easington Colliery in the first round proper on October 21, Bridge would not have been happy at the three goals his side conceded at home.
Bridge kept the same side that beat Newcastle Town comfortably at the Riverside last Tuesday night for Saturday's visit of Bradford-based Thackley.
The Rams were the first to show when Darren Bowman got in a deep cross from the right and Thackley keeper Richard Cornwall had to leap to tip the ball over the bar.
From the resultant corner kick Andy Grimshaw shot just wide of a post. Then, in the fourth minute, right against the run of play, Thackley went in front through Joe Richardson.
He looped a header over the top of home goalkeeper Keith Nield as Rammy's defence simply stood and watched.
Ramsbottom were back on level terms in the tenth minute when Dave Yorke-Robinson despatched a slick shot past Cornwall.
Thackley were shading the game and won a penalty in the 17th minute when Matt Surtees rose to head and Andy Grimshaw, with his hands up to protect himself, was unfortunate to handle ball and the referee had no option but to award a penalty.
Stuart Burgess stepped up to take the spot kick with a low shot to Nield's right, but the Rammy keeper was equal to it and made a fine save.
In the 28th minute Mark Heyes raced away down the left wing, cut inside and with the Thackley defence retreating, he cut into the box from the left and sent a low cross-shot into the bottom corner to put the Rams ahead at 2-1.
That's how it stayed up to half-time and at the start of the second half Thackley were quickly on the attack in search of an equaliser.
Nield saved a Mick Ward header well and minutes later he tipped a fine Burgess free-kick over the bar.
Thackley kept the pressure on and won three corners in quick succession. Then in a rare attack Russell Brierley had the ball in the net, but much to everyone's amazement, had what appeared to be a good goal wiped out.
Referee Chris Byrne ruled that Russ had been guilty of ungentlemanly conduct by shouting 'Leave it' as he started his run, taking the ball from a Thackley player's pass.
Thackley rubbed salt into Ramsbottom's wounds when they grabbd their equaliser in the 70th minute.
Surtees got up unchallenged after running in free from the far post and headed in.
At this stage Ramsbottom were looking second best and they were grateful for the game going into extra time after a bit of a backs-to-the-wall last few minutes.
Thackley went 3-2 in front through Burgess, who headed home in fine style in the 101st minute.
Ramsbottom were given a penalty in the 105th minute after Russell Brierley was pulled back by his shirt and the Rammy hitman made the visitors pay with his spot-kick, which went to the left of Cornwall and into the bottom corner.
Thackley refused to put the shutters up and went looking for a killer goal. That left it open for Rammy to raid as well, but it wasn't until the 118th minute when substitute Gareth Gardiner crossed into the penalty area and Dave Yorke-Robinson jumped to head an excellent winning goal.
RAMSBOTTOM UNITED: Nield 8; Bowman 6, Goodall 7, ROACH 9*, Wallace 6, Grimshaw 6, Vaughan 6, Cameron 6, R Brierley 7, Heyes 6, Yorke-Robinson 8. Substitutes: Briddon (for Grimshaw, 65 mins ) 6, Brookes (for Heyes, 65) 6, G Gardiner (for Vaughan, 110 mins). Not used Smith, Parrott.
1995 – RAMSBOTTOM UNITED 4 DAISY HILL 0
North West Counties League Division 2 Cup
(report from Rossendale Free Press)
Rammy made further progress in the Second Division Cup when they beat Daisy Hill 4-0 on Saturday.
Although Rammy had already beaten Daisy Hill 4-1 in the league encounter, Bridge was not prepared to take any chances.
"The main problem was complacency but I knew they had some new players when they drew 2-2 with Bacup Borough earlier in the week," said Bridge.
Phil Rose gave Bridge's lads an early lead when he slotted home a rebound after Andy Clarke had the initial shot following a good move. Mark Isherwood scored the first of his two goals when the Daisy Hill keeper failed to hold the effort. Steve Johnson then made it 3-0 at the break when he headed an Isherwood cross from six yards.
Although Daisy Hill threatened in the second half, they were not able to penetrate a solid defence well marshalled by Mickey Charlton and Darryl Hardman.
Rammy added just one goal after the interval when Isherwood cut in from the right before firing in a low shot.
"The lads were keyed up for this match especially after the excellent 3-3 draw with Oldham Town in their previous match," said Bridge. "We are adopting a professional approach but we are still amateurs in a semi-pro competition."
RAMSBOTTOM UNITED: John Tanner, John Fleming, Darryl Hardman, Mick Charlton, Julian Ferrier, Paul Mills (James Richards), Mark Isherwood, Phil Rose, Stephen Johnson, Andy Clark, Paul Taylor. Subs not used: Neil Rhodes, Martin Kelly.