A player who thrilled and excited Rammy fans for a full nine seasons, our next "Looking Back" profile is none other than Lee Gaskell.
Our leading goal scorer with 33 in the promotion winning season of 2013/14, he has written himself firmly in Rammy folklore.
Name: Lee Gaskell
Appearances: 266 (47 as sub)
Goals: 126
Yellow cards: 10
Red cards: 0
Seasons: 9 – 2010/11 to 2018/19
How did you come to join Ramsbottom United?
I was approached by Bernard Morley via a phone call when I was working away in Wales. I must have been about 24 as I knew Bernard from when we both played at Bury in the youth team. But I decided to stay at Walshaw for the season. We then had a pre-season friendly against Rammy the following season. I think I scored a couple and both Jonno and Bernard approached me again a few weeks later. I decided to better my career and joined the Rams. My first game was on a Tuesday night under the lights and knew instantly I had made the right decision. My first wage from the main man Harry was £30. He paid me £25 and gave me £5 worth of tickets! And said "there you go, cock, I'll have half a lager". Little did he know that five years later, he would still be paying me and buying me a pint!! Joking aside, I know he's not everyone's cup of tea but I have nothing but respect for the man. He paid me for a good nine years, always had a pint and always understood when I moved on. I still keep in touch with him today.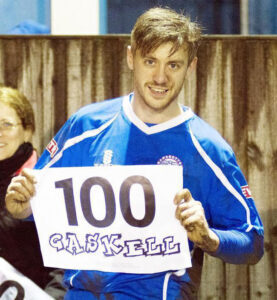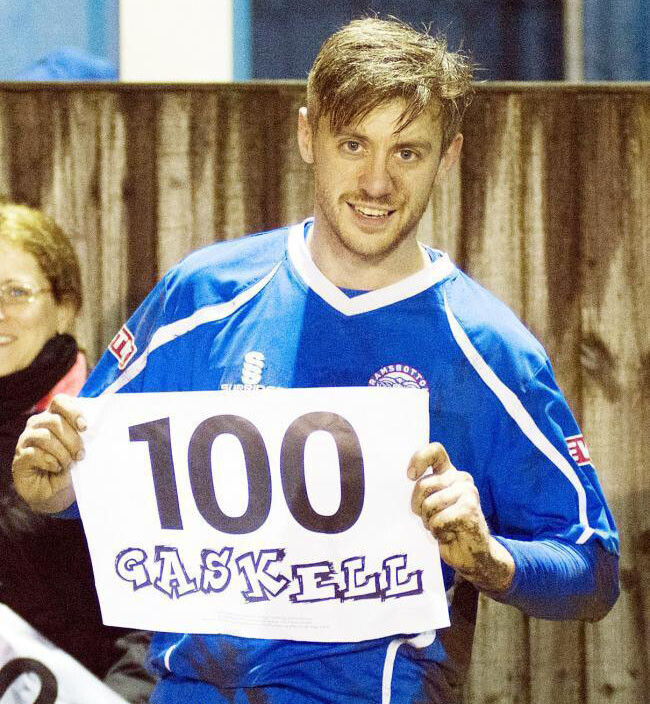 Rammy highlight?
On a personal note, it was when I reached 100 goals for the club. I recall it coming off back-to-back hat-tricks and I was in the form of my life. I thought it was a great touch from the Rammy fans with 100 banners all the way around the Riverside singing my name. It's only really now when you look back on your career, I realise how awesome it is having fans sing your name.
Favourite game?
No brainer this one, the Bamber Bridge play-off final game. What a day! Even Harry got the lads a coach to the stadium. I'll never forget, we were probably the best footballing team in the league and we arrived and the sprinkers were on, it just played perfectly into our hands. The game was fantastic but the party back at the club was one to remember. One thing I will say about Rammy of all the clubs I've played for is the player/fan relationship is fantastic. We could have a poor game but we'd always have a pint with the fans after. Chairman's motto … win or lose, we still booze!!!
Rammy lowlight?
Probably when I wasn't allowed to go on loan to Warrington for the second round of the FA Cup live on television. The club rejected the offer so I had a decision to make. It was either stay at Ramsbottom or fulfill a childhood dream of mine to play live on tv in front of millions. I had to choose the latter as those opportunities don't come around often and went on to sign for Warrington. I think all parties involved made a few quid out of the deal so turned out to be a good decision.
Best player you played with?
I've been fortunate at Ramsbottom to play with some fantastic players. Just to mention a few – Gaz Stopforth, a machine. Jordan Hulme, natural talent and it is great to see him playing full time football now. Phil Dean, the one player that could of easily been a pro. But Tom Kennedy for me. I actually started playing football with Tom when we were six years old for Woodbank and we both went and played for Bury. He went on to have a fantastic pro career and we still have a pint every now and again even now. Great footballer and a better bloke but he can't keep up on the shots!!!
Player to avoid on the pitch?
Tough one this as we have had some absolute nut cases in that dressing room!! Grant Shenton in training would go off his nut if you tried to lob him. Lee Pugh – never 'meg' Lee Pugh, he will come for you!! Jamie Rother wouldn't care about crunching you in training either.
Funniest moments?
Jonno at half time – god forbid I didn't hold the ball up correctly! Bins would be flying everywhere but Bernard would be stood behind him laughing but we, as the players, would have to try keep a straight face. I wouldn't have minded but I think I scored 2 and we were 3 up. But looking back, that was one of weakest parts of my game but now it's one of the best parts. So I suppose all the bollockings paid off. I think one I will never live down is when I missed the first half of a game because I thought I wasn't in the squad. Jonno ringing me up f'ing and jeff'ing. I was at home watching Hangover!! Jonno could hear a casino in the background, he was going mental thinking I'm out on the town in a casino! I've never got to Blackpool so quick in my life.
Another was 'Naked bus'. I think Jordon, Pughie and Stopforth started it but for every coach trip it was mandatory for all players and coaching staff to be completely naked on the trip home. It was a routine that stuck throughout my time at Ramsbottom. Training nights – another Thursday nights would be a jugs nights after training. You don't really see it in the modern game. It was basically lads and management on the booze until the wags started ringing to get home.
Oh and Harry's player awards speeches… when he went on for a good hour about me, saying I was the son he never had, that was brilliant. I thought I could talk but that bloke on a mic… is priceless.
I've had many great years at Ramsbottom and it was a massive part of my life. I'd like to thank all the players, the different management staffs I've played under, the chairman and his staff but most of all the fans. It was a great pleasure to play in front of such great fans who always appreciate everything I did even now when I bump into fans around the village they always have a chat. I look forward to visiting the Riverside for a game with my dad and grandad in the near future and cheer on the current team.