It is a game and a day that will live on forever in Rammy folklore – on this day two years ago. It was Tuesday 15th January 2019.
As part of the extraordinary, memorable FA Trophy run to the last 16 of the competition in 2018/19, the Rams had to play in their fourth consecutive replay.
Having previously seen off Yaxley, Pickering Town and Workington in their earlier re-runs, this one would be a much stiffer requirement. Not only playing against higher league opposition. And not only playing, yet again, on a Tuesday night.
But this particular game would see the Rams making the longest journey they had ever undertaken in their 53-year history. A 550-mile round trip journey to the Jurassic Coast. A 550-mile round trip to Dorset. A lengthy trip to play Southern League Premier Division title challengers Weymouth.
Iyrwah Gooden's last gasp equaliser in the 96th minute of the original tie on the Saturday had ensured the Rams would live to fight another day in this competition and extend this remarkable run into its tenth game.
Already knowing the reward for winning was a home game with National League trailblazers AFC Fylde, Weymouth knew they were in the box seat. Higher league than the Rams, a long journey for the visitors and playing on their sizable home pitch, where they had only lost once all season.
Here, we take get a unique and exclusive view from some of the players and the famous "Rammy 17" supporters alike on the events of that day.
RammyStats is hugely grateful to skipper Tom Kennedy, midfielder Jamie Rother, goalscorer Eddie Cooper and man of the match Iyrwah Gooden on the playing side and Daz Comer and Katie Worsick from the supporters for their time and their memories of this epic day. I have also added my memories to this too. Thank you everyone for your time.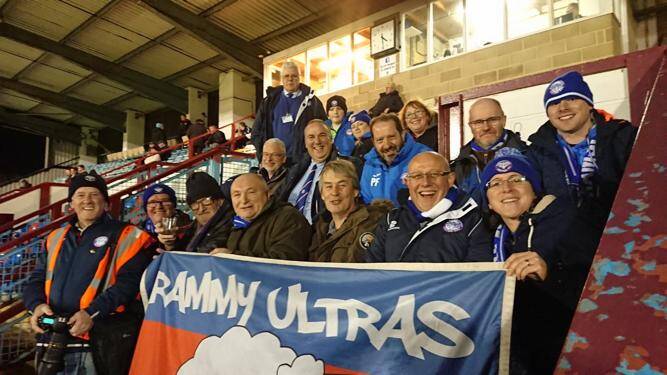 WEYMOUTH v RAMSBOTTOM UNITED
Tuesday 15th January 2019
Buildbase FA Trophy Round 2 Replay
The Bob Lucas Stadium
Attendance: 657
TK – The original game was one that I thought we did enough to win on the day as we acquitted ourselves well.
KW – Having felt resigned to the fact our FA Trophy journey was over, all of a sudden we had the excitement of a last minute equaliser.
IG – I didn't realise that we were going to be going to a replay. It was my first game for the club, I was on loan from Mansfield and I didn't even realise it was a cup game! I was really happy to have scored the equaliser and the lads went mad but I didn't know what was going on until we got back to the dressing room.
JR – I had family and friends in the hospitality boxes. It was a great game and when the equaliser went in, we all went absolutely mental. Then I thought, "oh shit".
KW – That excitement then gave way to the despair of realising that a short-notice Tuesday night game in Weymouth would not only be beyond the reach of most fans, but also probably most of the players.
TK – We said jokingly, given that we had played so many replays, that the potential of going all the way down to Weymouth for the replay wasn't something we were that keen to do and one of us would just kick an own goal in to save us the trip.
JR – Obviously, because of the circumstances for me personally – I was going on my honeymoon on Wednesday morning – a draw was the last result I wanted! Every game prior to that, we ended up with a replay but nobody wanted another one this time, me in particular.
TK – We felt quite dejected after the game. We had played really well but we were a real non-league outfit, guys had work on Tuesday and family commitments too. The gaffer said "well, what do you think" and I think the emotions were still running high.
EC – At first, everyone was buzzing that we had got the replay but it was only when we got back to the changing room and the gaffer asked "who's available" that I wondered "well, how far away is Weymouth?"
JR – I had to have a long think about it and I thought I was going to miss it.
KW – There were rumours abound in the cricket club that we wouldn't be able to field a team and would have to forfeit the replay – maybe this was to give Weymouth a false sense of security … who knows?
TK – If we weren't such a tight knit team, maybe we couldn't have made it work. As it turned out, no-one missed it. We went down there with a full squad. And that is what I have seen since I have been at Rammy. It's an ethos, it's a buy in philosophy. We were all committed. It was never in our keeping not to go but Weymouth were doing well in their league with a few ex-pros and a good strong side so we knew we were going into it with a nothing to lose mentality.
JR – But I decided that I would go. We would have gone with a bare squad but we were so confident because of the run we were on.
EC – Could we get a team together? The general consensus was that we would go but we didn't want to go with six or seven of the reserve team and go down there and get hammered. As it turned out, we took a pretty much full squad, bar one or two.
DC – Most people forget about the first game and that late equaliser but I always said that I am definitely going to Weymouth. We had played so well, I had to be there for the replay. The more you thought about the journey, the more you wanted to be there.
RI – The replay was exactly what I wanted! I had said to Tony [Cunningham] before the Workington replay that we have to win that and then draw with Weymouth at home so I can actually watch us play 'down south'! I never thought it would happen but when it did, I was delighted … I was probably the only one.
EC – The coach left Rammy about 11am and the journey down was ok, we stopped a couple of times to stretch legs but we did well with the traffic.
DC – I finished at 12noon and Dawn took the day off, we were getting picked at 12.45, got home and had a bacon butty. Andy and Katie arrived at 12.45 and we set off.
KW – My husband Andy offered to drive me, Daz and Dawn down as Daz couldn't get the morning off work and the coach was leaving much earlier. We still got down to the ground in plenty of time about 6.00.
IG – I stayed up locally after the first game and travelled down with Lincoln on Tuesday morning. I slept most of the way and it felt a long way down there, the longest I have ever travelled for a game.
EC – The journey down was fairly quiet. I sat and read my book about Auschwitz – the lads took the p*** as when I was at Glossop, I used to be the party animal. But I was just there reading on the long trip down.
TK – We set off about lunchtime and stopped once or twice on the way down. It was a good drive down, fairly clear and get got ahead of the coach.
JR – We left late morning, I went down in the car with TK and Kyle Jacobs. I had taken the day off work but went in for a couple of hours and then came home to do the packing for my honeymoon next day.
DC – On the way down around Birmingham, there is a guy – he is a Middlesbrough fan who we call Smoggy. He was with Kerry and his young lad Matthew. They took him out of school for the day and they had their Rammy flag and scarf hanging out of the car. We overtook them and bumped into them at Frankley Services on the M5. What made me most proud about doing that trip was a tweet from a Manchester City fan who saw the car with the Rammy flag and posted that he just had to admire the loyalty of the non-league supporters. He looked up where we were playing and saw it was Weymouth!
RI – I worked all day on that Tuesday but, that morning, BBC Radio Solent's Dorset Breakfast Show had got in touch as I knew a few of the sports people from the station and they knew of my connection with Rammy. I was interviewed on the show, where they basically asked "who the hell are Ramsbottom United?". I told them all about us and it was all good fun until, right at the end, the presented closed the interview by saying "well, we hope you get absolutely stuffed!". Charming!
KW – In the event, not only did all the players somehow manage to get the time off but 16 fans also made the trip down from the North on the team coach and in cars.
RI – I was the 17th of the famous 'Rammy 17' … and made a very proud, fairly short journey, with scarf hanging out of course, just an hour and a half's worth down the A31 and A35 from Southampton.
TK – We got down to Weymouth fairly early and found a little cinema complex with a few restaurants there. We eyed up the Nando's there. Don't know why as it always repeats on me during the game!
EC – Jamie and TK met up with us at the restaurant there.
TK – I ended up filling my boots with 10 chicken wings, half a chicken and spicy rice! And yes, it did repeat on me during the game. But we made our way to the ground.
DC – It was quite a nice day and I fell asleep on the way down. When I woke up, we were not far from Glastonbury. It was dark when we made it to Weymouth so we didn't get to see the sea. We would certainly have made a day of it if it was a Saturday. There were no fans around at the ground when we got there but they let us all in for nothing. None of us paid to get in – that was a really nice touch from Weymouth. Can't see Harry doing that!
RI – I got to the ground about 6.30 and went up to the bar to meet up with our supporters. There was just this buzz around the place but the feeling was that Weymouth's big pitch would be too much for us.
DC – I was impressed with the Bob Lucas Stadium. There are loads of modern grounds around but this was still quite old school and I liked that.
TK – Playing pro myself, I revelled on playing on a bigger pitch. It gives you more time on the ball but Weymouth were a strong side, more than a few leagues above us. On their day, they should have played us off the park.
DC – It was a really big pitch but I saw the players warming up and had a chat with Jamie, Nico and Iyrwah. But I just got this feeling that they thought the pitch wouldn't suit us.
EC – We knew it was a big pitch but it didn't seem bigger than ours. They were going to pass the ball around but we were a fit team and we were more than happy to play on that pitch.
TK – I also had a feeling, just that vide, that they didn't take us that seriously. You could smell it in the air. Foot half on the pedal and half off it.
EC – I remember I played against their centre mid. He was just laughing and joking through the game while we were taking it really seriously. They thought it was going to be a walk in the park.
TK – We had not taken time off just to go there for a day out. We had missed out a bit financially because of this game so we were well up for it.
JR – I don't think we thought the pitch was a factor. There was a feeling that it was going to be a tough one but then, every game we fancied our chances. Since Chris came in, every time we played a replay, we won. We had some good players – we had to go at them and we did.
TK – The other thing that I thought played into our hands a bit was that it was a really cold night. We don't mind the cold up north! In fact, it was quite warm for us. But the lads were fully up for it as we knew we were on a hiding to nothing.
EC – We started well and Iyrwah ran them ragged in the first half.
IG – It was my first experience of playing non-league. I had come off the bench on Saturday but started this game so I didn't see it as a different level, I was played my game.
TK – They had a few half chance and we could start to see their frustrations that they weren't having it their own way.
EC – We got the first goal, an own goal but then we conceded straight away. We did begin to wonder if that was the wake-up call that they needed when we scored and the gaffer was pretty annoyed because we had to stay switched on and we didn't after we got the goal.
TK – We acquitted ourselves well and Iyrwah was unplayable. We competed to our total maximum ability and I thought they were about 50-70% of where they would have been.
IG – The first half went pretty well and when we scored, we were on top. But I do remember them scoring and I thought 'oh here we go', they got their one goal, they were going to kick on. That was my thought at the time.
EC – We were playing well and were still in the game when no one really expected us to be. At half-time, no one felt that there was anyone better than us and we just had to stay in the game.
KW – I was the designated Rammy tweeter for the match so that kept me occupied throughout the game. I'll leave the match details to others except to say that the Rams were dominant and the wide pitch suited us.
RI – As time went on, you could feel that the crowd were getting a bit restless. I was on match report duties and noted that the crowd were starting to really get on their players' backs. You felt that, given their higher league status and playing at home, they just expected to win.
TK – Their fans were getting on them a bit as the second half went on and then we went ahead again.
EC – No-one noticed but it should have been a foul to them! I nudged their defender in the back as I was going forward, the ball looped up and, as it dropped, I just hit it. I saw the defender running back towards the net but I didn't know if he was going to get it. Our fans behind the goal had seen it go over the line and I just remember sprinting towards our dugout and there was a massive pile-on!
TK – If Eddie and Jason Carey are scoring for Rammy, it's a miracle and tells you everything about the game. Eddie had about three millions chances for us and didn't score. He gets in some great positions but he can't finish his tea!
EC – I'm not the one who missed a penalty!!
TK – The first penalty I have ever missed in my whole footballing career.
IG – It was a rare goal for Eddie. He's not the best in front of goal! That is the only goal I have ever seen him score and he has loads of chances.
EC – Jason scored late on, he should have had another too, he smashed it through the keeper.
RI – When Jason Carey scored, the stand started to empty and the chants of "oh Rammy United" were really loud, considering there was only a few of us.
TK – Their fans getting on them would have been eating them inside but if you don't turn up with your work bag, you can't get any work done.
JR – We dominated the second half. Having the likes of TK in the side helped a lot and we were just confident.
IG – That third goal was gave us a bit more relief. To go that far and lose would have been a real double whammy, so to go and win, that was great.
DC – We got well on top in the second half and our numbers seem to be boosted.
KW – There were fans of some other local clubs there who were Rammy fans for the night!
DC – The Wimborne Massive and Poole Town supporters were there supporting us! I think Weymouth aren't that much liked around the local area so it made for a really good atmosphere as our numbers were boosted because of them. Some of the Weymouth fans started to leave but wished us well and said we deserved it in the end.
RI – The final whistle blew and the massive celebration of our little group of supporters was incredible. It gives you goose bumps now thinking about it. Our little team had come all this way on a Tuesday night and turned the big lads over.
DC – Both games were played in a really good atmosphere but we didn't have much time to really celebrate it. As soon as the game finished, we popped into the bar to congratulate the lads. I just remember this guy called "Weymouth Hatter" who was on our fans forum. He has been at the first game as well and said then that we wouldn't get a team to come down, like Needham Market hadn't earlier in the tournament. He was a sick as a chip after the game …. that was the icing on the cake!
KW – Being in the bar after the game was a buzz, with Weymouth fans congratulating us and saying we deserved it. I kept my excitement under control until we got outside to the car and then, knowing I'd be sitting still for several hours, I bounced around Tigger-style to celebrate and let out the joy!
RI – Typing up the match report was just fantastic, I did it straight away before I headed for home. By the time I had finished, all of our players and supporters had gone.
EC – Considering the day we had, we were supposed to be pushed over. They were that good, they could have scored anytime but we played so well.
IG – The majority of the squad had gone down that day. To get the day off work was a big ask. I would been training that day so it wasn't too much of a problem for me.
TK – I had a meeting next morning at 9am and Kyle was on site first thing too. We went up to the bar, had some chips and that was us off.
JR – We didn't have much time to really celebrate it as TK, Kyle and I headed off – well, I had to get back as I was due at the airport at 5am!
TK – We shot off, I drove most of the way home, stopping for some food on the way, got in about 3.30-4.00 or so.
IG – We got off pretty quickly after the game and got home in the early hours. We were just going back through the game and laughing about it. We were expected to lose the game but played really well and won. It was a great feeling.
DC – The journey home went really quickly. The twitter feed was going mad and it made the journey fly by. We were home by 3am.
KW – The long journey home passed amazingly quickly and consisted of me reading out all of the congratulatory tweets that people and clubs had sent us on our amazing victory for four hours!!!
EC – We got on the coach and headed for home. The first hour or so was good fun and we got a couple of beers, certainly not as many as we would normally have on the way back from a game as we had work in the morning. Once the beers kicked in, quite a few lads fell asleep and we just tried to get comfy on the coach. We got back at 4.30 or so and then it was 35 minutes for me to get home.
TK – The fans that made that journey, the miles and expenditure they put in was amazing. It was something to give back to the fans. It was a memory they will cherish for a long time.
DC – I would do it again tomorrow, it was brilliant! I was up at 6 but was buzzing all the way home.
TK – In this era of millions of pounds, being at Rammy for the last three seasons has been some of the better times in my footballing career. The lads will give you 100%, you know the fans, you have a beer with them after the game and for us to give a good account of ourselves. It is a special thing for the fans, they have gone home with a smile on their faces.
DC – These are the reasons that you get into football. The more adverse the away game is, the more you want to do it.
TK – I am very proud of the club and the players and the fans. If you give 100%, you will get 100% back. Games like this is Weymouth is what make things special.
Main photo thanks to Weymouth Flickr