OTS – 9th SEPTEMBER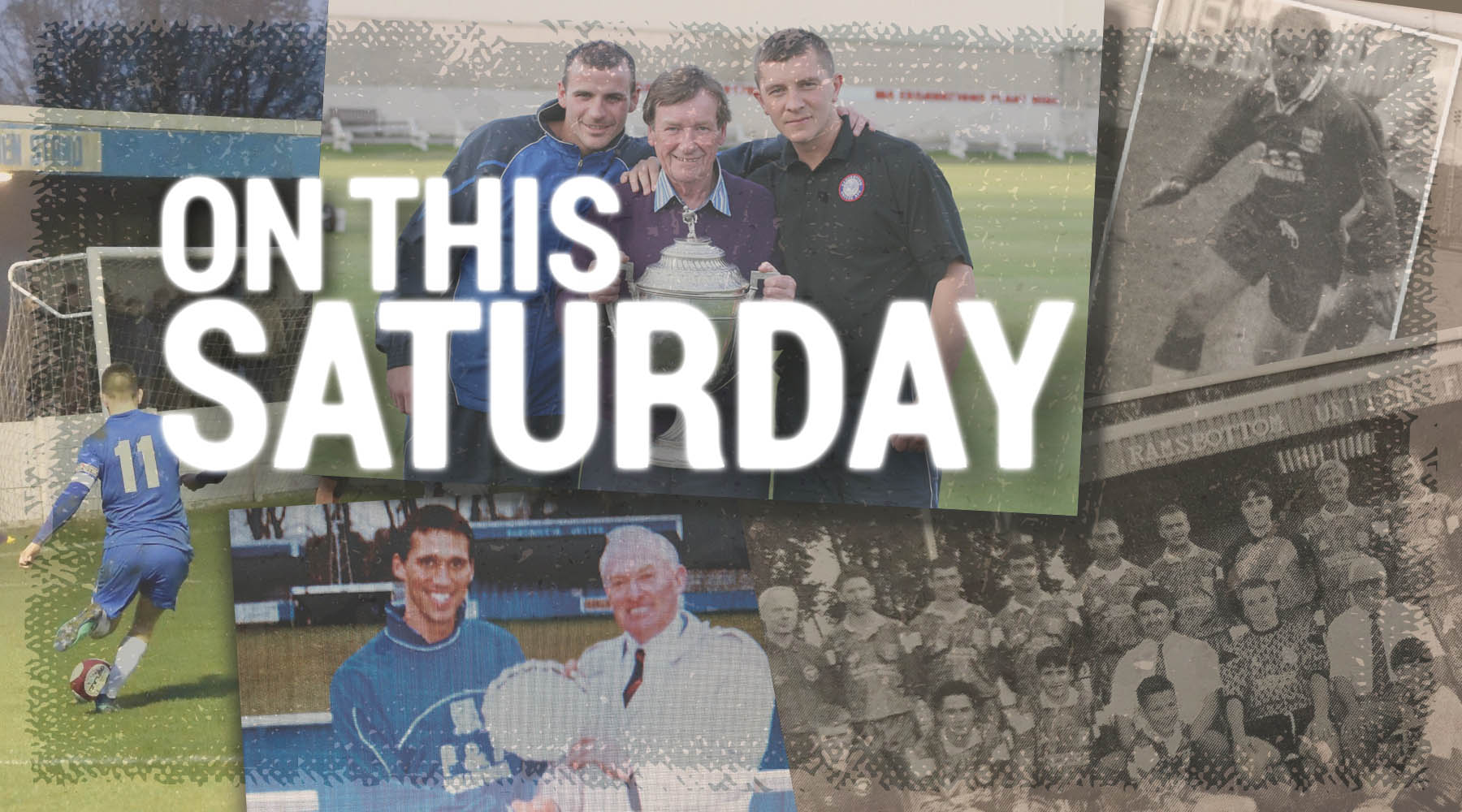 Another late summer Saturday so let's have a look back and see what happened "On This Saturday" in our non-league history and it's Saturday 9 September.
2017 – NO GAME
There was no game for the Rams on this Saturday in 2017 as we played on the Friday night due to a clash with Ramsbottom Second XI's home game with Todmorden Second's …. which was rained off!
And the Rams continued their incredible run at the start of the season with a sixth undefeated game (four wins and two draws) with a solid 3-1 win over Trafford.
Jerome Wright's goal on the half-hour gave the 369-strong crowd plenty of cheer but Scott Sephton's response just before the interval made sure the sides were level at the break.
However, Kyle Brownhill just before the hour and Max Hazeldine with six minutes remaining kept the Mark Fell roadshow firmly on track as the Rams sat in second place in the early table and excitement was beginning to grow for a serious promotion push.
2006 – ATHERTON LR 3 RAMSBOTTOM UNITED 2 (AET)
FA Vase 1st Qualifying Round
It was an early exit from the FA Vase for the Rams as they were sunk by an extra time goal at Crilly Park back in 2006.
The hosts' McAllister scored twice in the space of seven minutes, the pair sandwiching Ryan Moore's hit on 21 minutes which saw the sides go into half-time at 2-1. Lee Cryer would then equalise for the visitors on 64 minutes and the sides could not be separated in normal time.
Unfortunately for Rammy, Hope would spring into action and score four minutes into the extra half-hour and they would hold on for the 3-2 success.
2000 – RAMSBOTTOM UNITED 5 EVENWOOD TOWN 2
FA Vase 1st Qualifying Round
Hot off the back of a thrilling FA Cup victory over Gretna on the Tuesday night, the Rams would switch competitions and move onto the FA Vase where Evenwood Town would be the second lengthy Saturday destination in successive weeks.
Northern League side Evenwood (who would merge five years later with Spennymoor United to become Spennymoor Town) would be downed 5-2 to book their place in the second qualifying round and a home game with Thackley.
But, according to the Lancashire Telegraph report, "even a 5-2 away win at Northern League Evenwood Town failed to make Ramsbottom United manager Ken Bridge smile, according to club secretary John Maher.
"We were 5-1 with some twenty five minutes left and they took the foot off the gas," he explains. "Bridgie was none too pleased with that to say the least. Evenwood got a goal back but it was never, ever going to be anything more than just a consolation."
Darren Bowman got the Rams almost immediate reply to that Evenwood early opener with Neil Wallace and Gareth Gardner making it 3-1 by the break. David Yorke-Robinson and Mark Heyes increased the lead early in the second half but Russell Brierley for once failed to get his name on the teamsheet missing his second penalty in successive games after Gardner had been brought down.
1995 – DAISY HILL 1 RAMSBOTTOM UNITED 4
North West Counties League Division 2
Three weeks after securing their first victory in their new NWCFL home, the Rams would finally secure a second with a comprehensive 4-1 win away at Daisy Hill.
A 1-1 draw in midweek at home to local rivals Haslingden did give Ken Bridge's side something of a fillip after two straight defeats and it certainly worked as Mark Isherwood grabbed a brace while Phil Rose and Andy Clarke would bring all three points back to the Riverside.