Football finally returned for Ramsbottom United on Saturday with the first of the pre-season matches ahead of the much anticipated and long awaited 2021/22 season. It had been 253 long, exasperating days since the Rams last took to the field.
But for one player, Saturday's return to action was the end of a 286-day long, hard, difficult and challenging period recovering from an injury sustained just prior to half-time in the FA Trophy victory over Ossett United at the back end of September 2020.
Goalkeeper Ollie Martin had only signed for the club some two weeks previously following a two-year spell with neighbours Radcliffe, helping the Boro to promotion to the Northern Premier League in 2018/19 – seeing the Rams off in the play-off semi-final.
Making his debut in the 4-1 FA Cup success over Irlam, he would play two more games before the injury struck, leaping to take a ball and landing heavily on his right ankle, rupturing the ligament.
"It was right at the end of the 45," said Ollie, speaking to RamsbottomUnited365 on Monday. "I asked the ref, how many minutes left?". He said there were three. "Are you sure, ref, because I think I've broken my leg!!!". He admits he always had a bit of Bert Trautmann in him, the famous Manchester City goalkeeper who played on through the 1956 FA Cup Final despite breaking his neck with 17 minutes remaining.
His return to action on Saturday, despite going down 4-2 at Padiham, was a day he had been looking forward to for a long time. "It was my first game I have played since. I have had a couple of training sessions but much of my rehab has been controlled, quite goalkeeping specific. I have only had one or two open contact sessions so Saturday was bit of a throw in at the deep end but it was great to be back.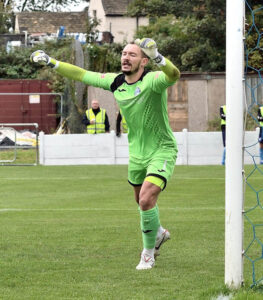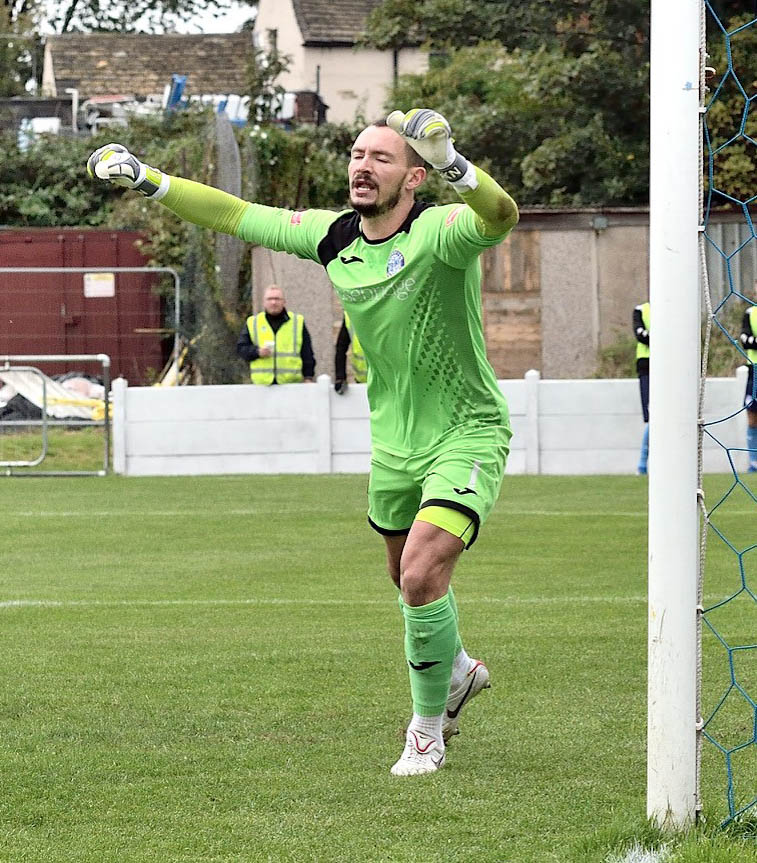 "My ankle felt fine but my leg and lungs ceased up a bit, but that is mainly down to my fitness levels. To be fair, I was quite happy with how I played in the general goalkeeping way. I made a few good saves so I was pleased overall, knowing that this is only the first game of pre-season back."
He was right to be pleased, pulling off three excellent saves in the first half and putting a full 90 minutes in his 'tank' was just what he needed.
"It was the worst injury I have had," he admits.
"Right at the start, fair play to the NHS considering everything that was going on, they got me in to have the operation really quickly, only a week or so after it happened.
"They put a metal plate, loads of screws and two pins through the ankle. The issue was right in the middle of the ankle, so they had operate. I was supposed to have my pins out during Christmas week but that was delayed.
"In many ways, that did me a favour as the additional three months of rest allowed me to return to action sooner. If there had been football on and I was missing out, then I would have been more frustrated than it was but the doctors felt that, with the additional rest, I would be able to get back to football in about three weeks to a month, working on my fitness in the meantime on a bike and that sort of thing.
With football at non-league level continuing its enforced sabbatical, not missing any football was something of a blessing for Ollie. "If the season was on, I would have probably pushed too hard to get back as I hate missing football."
He wanted to put on record his gratitude to the outstanding staff at Salford Royal, "I sent them a card to thank them for all they did", and to the Spire Hospital and Timothy Clough "who was great with me for my second operation."
A spell at St George's Park and their much vaunted Game Changers Performance Sports Injury Rehabiliation Programme helped him get back on his feet and he is now back in the Rammy net and looking forward to the season ahead.
"I am ready to give my all for Rammy this season. I had only just joined the club last season so hadn't really settled in, feeling like a player who had just arrived and then disappeared but I knew what a great dressing room it was. I knew that from games playing against Rammy over the years.
"We don't sign any clowns, the lads we have make for great camaraderie and that is part of what the club is about."
His final words are much more personal. "It has been a really tough ride," Ollie adds. "But I wouldn't have been able to do it without my girlfriend Alice, who had waited on me hand and foot through the very tough times and for that, I thank her so much."
We look forward to seeing much more of you, Ollie in a Rammy shirt. It is great to have you back.
#YouRams