It is once again time to head for home to kick off the Bank Holiday programme by hosting Market Drayton Town in the NPL Division One West this Saturday. And our history against the Shropshire side is very short – just the two matches in the 2018/19 season.
That is because of the constant changing of the NPL Divisions that has seen MDTFC play in four different leagues in the last five years – Division 1 South, Division 1 West, Division 1 South-East and now back to Division 1 West again.
And that is where our paths cross once more, meeting a side that we did complete the double over in that sole season – a season that the Rams finished fifth and Market Drayton down in 16th.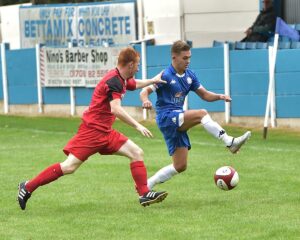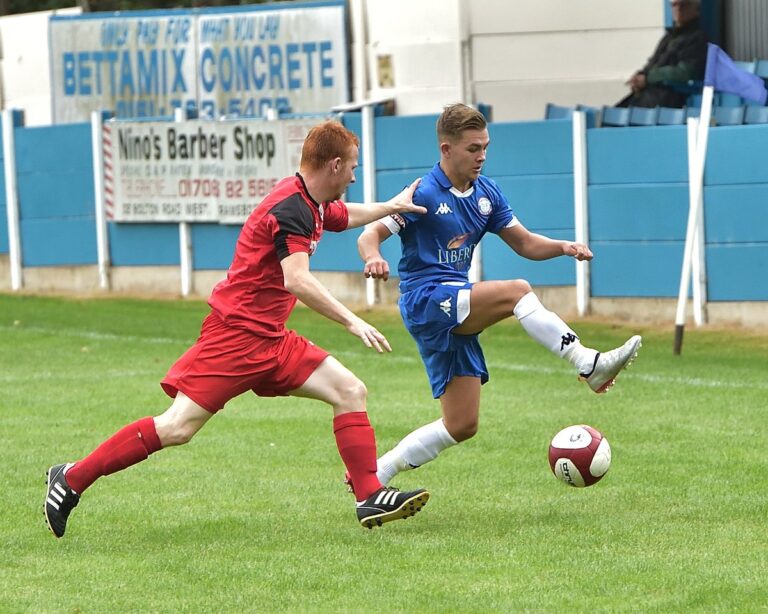 Our first ever meeting kicked off the campaign at the Harry Williams Riverside Stadium on 18th August 2018.
A headed Jack Higgs goal gave the Rams a deserved lead just after the half hour mark and the home side were looking more than comfortable until Will Wells' scuffed shot presented Charlie Knowles with the simple of tap ins to level the tally.
It continued to be a frustrating day for the Rams until Luke Thompson was introduced with just 12 minutes remaining and it took him just four of them to make a nuisance of himself, getting inside the keeper to nod home into the empty net.
A 2-1 win to start the season for Mark Fell's side and hope enlivened.
And it was a pre-Christmas trip to Greenfields for the return fixture – for your author, it was a trip north first via Bury Market to stock up ahead of the 'big day' – and we headed into the festivities with a comfortable 3-1 victory in front of 88 chilly spectators.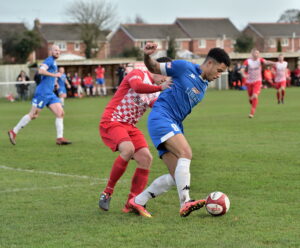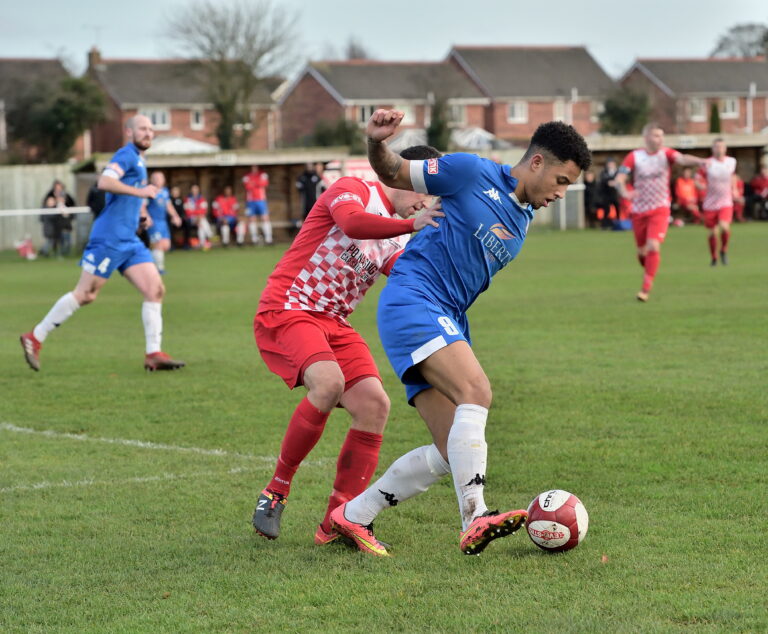 A Desean Martin own goal, troubled by the onrushing Jamie Rainford, gave the Rams the lead on 37 minutes and by half-time, the visitors were full of cheer at 3-0 as Ruben Jerome accepted a pre-Christmas gift from the MDT defenders and then Luke Thompson sent the stands into party mode with a headed third from a corner right on the stroke of the break.
An 82nd minute penalty from Glynn Coney, which saw Ryan Ellison given his marching orders with a straight red, gave the hosts a consolation.
So it's the Rams in 9th against Market Drayton in 12th today – one win and two defeats to their name so far, which is certainly an improvement on the thankfully voided 2020/21 campaign for them, which was played 8, lost 8 with two goals scored and 30 against. They sure would have been happy to see that season quashed.
Kick off is at 3pm and expect Ramsbottom town centre to be busy today, given it is a Bank Holiday so get to the ground early and enjoy the match (as Tony often says!).