FIVE NEW SIGNINGS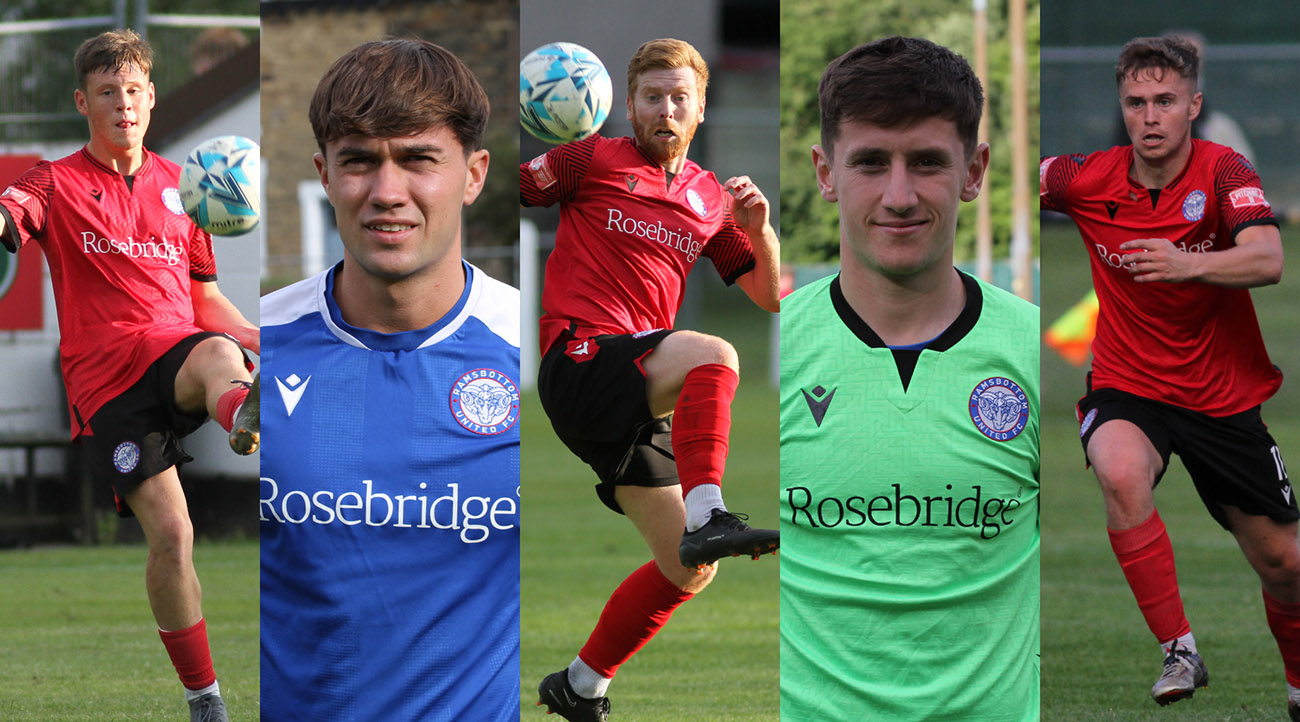 We are absolutely delighted to announce the signing of five new players for the upcoming 2023/24 season, with Harvey Hayhurst, Tom Walker, Martyn Jackson, Ryan Hamer and Sam Rigby to our ranks.
First up, we have been able to bring in the versatile Harvey Hayhurst ahead of the next campaign. Despite still only being young, Hayhurst has a real pedigree having spent time in the academies of Burnley and Accrington Stanley, most recently the tricky youngster played for Northwich Victoria under the gaffer Steve Wilkes.
Harvey told the club, "when I was playing under Wilksie I found a lot of confidence, therefore when he got the job at Ramsbottom I knew exactly what I wanted to do. It's a big club and I can't wait to show everybody what I can do and hopefully help us to move back up the leagues".
Hayhurst can either be deployed as a left back or as a winger on either side and has also done stints at center back before so he certainly offers the manager a lot of options.
The second signing that we have made this summer is central midfielder Tom Walker. Tom is a real rock in the centre of the park and has spent time at Padiham as well as Northwich Victoria.
Walker told the club website, "I played under Wilksie at Northwich and when he gave me a call and asked me to come with him it was a no brainer. This is a big club and the set up down at Rammy is great. The lads are all sound and we're a tight group which is something you need. With Steve in charge, me, the fans and the gaffer will all be expecting nothing less than the play-offs".
Tom will offer the squad an abundance of energy, passion and desire in midfield and he is also more than comfortable slotting in at right back too.
The third signing we have made is midfield maestro Martyn Jackson. Martyn is another player with a really good pedigree having spent time in the academies of both Manchester United and Burnley. He also has a wealth of experience at non-league level having played for Prescot Cables, Bootle and Northwich Victoria in recent years.
Martyn spoke to us after signing and said, "Steve called me and said that he would love me to play for him at Rammy and that the structure there would help him build a team that can challenge for the league. The set up at the club has always been something that I've been impressed with when I've visited in years gone by and the fans are always out in numbers too".
Jackson is a hard working, tireless midfield player who can also chip in with a number of goals throughout the season.
The next player we are proud to announce is talented goalkeeper Ryan Hamer. The young custodian has played for a number of teams such as City of Liverpool, FC United and Winsford United where he won young player of the year during the 2021/22 season. Ryan is an extremely good shot stopper who impressed manager Steve Wilkes during his short spell at Northwich Victoria.
Hamer told us, "This a great club and when I spoke to Steve he told me that he wants the club to be back where it belongs and that's the sort of challenge that I am after".
The fifth signing that we've made is midfielder Sam Rigby. Sam has played for a host of clubs including Bolton, Bury, Rochdale and most recently Turton. He is a player who operates in an attacking role and he loves to chip in with goals.
Sam told the club website, "It is a great club to play for and I have come here to try and help us reach our aims at the end of the season. We all, myself included, want to see this club get promoted at the end of the campaign. I'm a team player and I want to try and help this club in anyway that I can".
We would like to welcome all the new players to the club and, along with the players retained from last season – Oscar Radcliffe, Ryan Lockett and Owen Collinge – look forward to what should be exciting times ahead.